Ensuring that your team follows a firm project plan and has clear communication is vital if you want your business to succeed with the product you have in mind. You need to think through all the related processes and find specialists with relevant skills. In general, managing any project is not an easy procedure. It requires working with extensive paperwork, keeping records, and dealing with legal contracts between clients and vendors.
Thus, to understand the project, the tasks that should be performed during its development and to determine deliverables, project managers and other teammates should have awareness and access to different forms of documentation. So, knowing what Scope of Service (SoS) is and understanding how it is different from Scope of Work (SoW) , Statement of Work (SoW), and other similar documents is what should be done. Therefore, let's take a closer look at scope of services vs statement of work vs scope of work to help you create a better set of documentation for your project.
Understanding Scope of Services
A scope of services, or SoS, is a document that states which services may be or should be provided by one side of a contract to another. It usually involves major activities required for a project and is created during the discovery phase of the Software Development Life Cycle (SDLC).
For example, if you have a custom software development project in mind that you want to launch and maintain successfully, your agreement may comprise the details of such activities that are included in SDLC, project management process, etc. It is basically a brief overview of WHAT should be done and WHO will be doing the assigned tasks. There is no need to describe subtasks or intricate details, because they may change in the process.
Read Also How Software Development Life Cycle (SDLC) Works and How to Choose a Proper Model
A common way to create a scope of services is to include the following:
A list that contains the full range of services that are expected from a service provider, including optional services if stated;
A list with services that won't be or can't be offered;
A tick box system to indicate if services are being provided;
Conditions when the services may be changed;
Timelines and quality requirements;
Payment milestones and terms, including fees and charges.
Of course, the document can contain other details or some of them may be omitted based on each particular case and requirements. Its main goal is to ensure that the team of your company and the vendor you are working with are on the same page and that no one is struggling with a scope creep. And, even when it happens, you can point out the changes in the document to not be afraid of them and be able to face them.
Read Also Running from Avalanche or How You Can Avoid Scope Creep
What Is Confusing About Scope of Service
The main confusion is that this type of agreement can be mixed up with Scope of Work and Statement of Work. Both of them are also known as SoW, therefore, let's clear out the differences.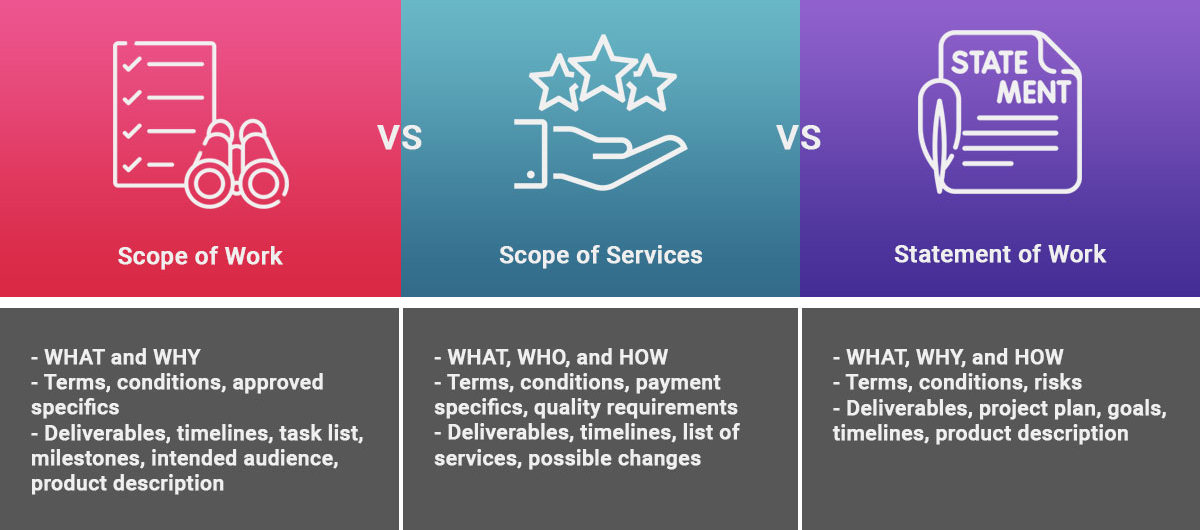 Scope of work is a document that guides the team that is working on a project through its details. It states what a project does and doesn't cover, what it needs and which milestones should be met. All the key features or functionality of an application is mentioned as well. The document also usually includes timelines and deliverables.
Scope of work is mainly about the overall description of a project than about the certain tasks, actions, and responsibilities. It can be a standalone and the only document if both sides agree on it and don't need scope of services, statement of work, or schedule of works. It is also important to note that some businesses use scope of work and scope of services as interchangeable terms.
Read Also Writing Scope of Work (SoW): Major Steps
As for the statement of work, this document is usually good for products, as it gives exact details of the process from beginning to end. It builds on the scope of work, and it's more like an external-facing document. Statement of work outlines a project plan, its expected deliverables, and goals. Besides that, it can include the risks involved and the phases of the project. The services to be performed can be limited to a one-time performance.
So, if comparing those agreements with the scope of services, the latter can be used, for example, when you want to have consultation services from a provider. Or, if the focus of the contract is on the "output" and not necessarily the method of performance.
How to Write a Scope of Services
Before writing a scope of services, it's also important to know which challenges your business may run into when creating one. In general, you may need to be prepared for the following:
Requirements
It is essential to understand that the document should be written by someone who understands what it should consist of and why it's needed. So, you need to find a specialist who has to have expertise and in-depth knowledge of the process for compiling one.
Complexity
Any agreement may contain complex terminology, so both parties have to understand what is covered and what is going on in the document.
Time
Creating a solid scope of services will take time, especially if you don't have prior experience of the process. Therefore, it is better not to be careless and let your expert spend as much time as they need.
Risks
Basically any action and decision may cause risks, such as legal risks, agreement violations, financial implications, etc., which is why it's vital to take them into account.
Project management is not an easy process. Many businesses use project management software or, for example, data visualization tools with Gantt charts to have their project plan sorted out. It gives a better understanding of what should be done, when, and how to make it effective.
Source: Project Management Application Based on the Gantt Chart
Using relevant documentation also helps with the process, so, let's take a look at what a scope of services agreement can include. First of all, just like any other document or contract it should contain the name of the company that receives services and the name of the provider. It is obvious, because both parties need to know who they will be working with.
Also, the document usually contains the information about the payment terms and conditions that may affect the payment. Both sides should understand that the specialists that the vendor of services provides are not direct employees. Therefore, all the key specifications regarding payment should be stated in the agreement. Timeline of the provided services is also usually stated as well. The start and the end of the project, the dates of payment and when goals should be reached – decide with the vendor what will be documented.
Of course, the document includes the services that provider offers. They may be allocated by project stages and usually also contain proposal responses and the format they will be received. If the staff training is needed, then state the total hours of training and the schedule. If you or the other party expects the document to be changed in the process, the conditions and terms of these changes should also be documented.
Why Such Documents as SoS and Others Are Important
Clarifying the expectations, roles, and responsibilities of the parties involved in a project is vital. It gives all project stakeholders, including business, vendor, and tech team, a clear idea of their activities and objectives in order to let everybody be on the same page. Scope of services, as well as scope of work and statement of work, are the documents that are valuable for any project, because they can minimize scope creep, prevent disputes and misunderstandings. They can also serve as a basis for measuring the performance and quality of the work or services delivered. Therefore, it is important to understand that if you avoid compiling such type of documentation, you need to be ready for negative consequences and risks.
When you decide with a vendor about all the nuances of your project, you may use different channels of communication. And, all those hours of discussing in person, via company chats or email, etc. can be lost if you don't document them. The earlier everything will be stated into a proper documentation, the least resource, financial, and morale expenses will be spent during the further project stages.
In other words, whether it's a scope of services or any other similar document, it can be considered as a guarantee that all necessary requirements will be fulfilled. Moreover, when disputes occur, you can always turn to the document that both parties agreed on. It forms a better understanding of where your project is moving to, what is expected in the end, and which services a vendor can offer.
Read Also Product Roadmaps for Startup and Enterprise: Taking Up a Rocky Road or Turning Around?
Conclusions
The most important part of any document, contract, or agreement is to ensure that all parties are satisfied with its contents. It means that all relevant terms and conditions are stated and all services and procedures are mentioned. Therefore, the choice of the document, whether it will be scope of services, statement of work, or any other, depends on you and the company or contractor you will be working with.
If you want to know more about the services we provide and how we can help you, please contact us, and our dedicated team of experts will offer you the best software solution to improve your business processes.