Being able to control the production and delivery of your products or services is one of the key processes that you need to be sure of if you want your company to at least stay on the market. The entire process, from the very beginning stage of sourcing the raw materials to the last stage of delivering the product to end-users, is supposed to be buttery smooth.
That is why ensuring that the supply chain management process has as few issues as possible is an integral part. In this case, supply chain software is what can be your saver. Therefore, in today's article, we will dive into the popular types of supply chain management software and look at what these options may offer your business.
What to Expect from Supply Chain Management (SCM) Software in the Forthcoming Years
Considering the amount of products and services people consume, companies won't stop looking for methods to improve their supply chain operations and be in tune with the times. According to Statista, revenue in the SCM software market is expected to grow at a rate of 4.67% by 2028, which is US$24.19 billion.
To understand which type of supply chain management system one needs, it is important to know what is popular nowadays and which requirements and goals such an application will have to cover. Companies try to successfully optimize their supply chain processes and find ways to reduce costs. Thus, more and more businesses turn to custom supply chain management software development services, because this way they are able to implement the functionality, features, and trends their operations and goals require.
It is impossible to avoid mentioning Artificial Intelligence (AI) and Automation technologies when talking about the current and upcoming trends in any industry, including business domains that engage with supply chain processes. Building systems based on AI technology becomes a common thing, because it works towards the optimization of business processes and is focused on streamlining and automating mundane tasks. Many companies choose to go for this technology when developing inventory management software or forecasting systems due to the increment of speed and accuracy it provides. And, Robotic Process Automation (RPA) is another technology that follows the same path and helps to deal with repetitive operations.
Read Also Three Faces of Efficient Business Process Management. BPA, RPA, and IPA Compared
Implementation of supply chain risk management software is also a popular decision, because companies want their supply chains to be resilient. Risk mitigation, scenario planning, risk assessment – these risk management processes greatly help to prevent disruptions and give you an understanding of how to act in case of unexpected events.
Another trend that gives you an opportunity to make informed decisions and take advantage of innovations is to opt for Supply Chain as a Service (SCaaS). It basically means that all supply chain operations are outsourced to an external provider. Thus, you won't need to manage the whole process from procurement to delivery. It opens up a door for you to stay focused on other operations. By choosing this path, many organizations even start to use machine learning, predictive analytics, and various cloud-based solutions.
Circular supply chain is what gains more and more popularity due to the need of efficiency and sustainability. Leaning towards eco-friendly solutions is no longer a trendy publicity gimmick, it is already a compulsory measure. Supply chain is now considered a circular process that requires companies to recycle and reintroduce their materials, rather than follow a linear process of creating and disposing products.
There are many other trends and innovations, and sometimes it is even impossible to keep up with how fast the current technologies improve and how often the new ones appear. But we hope that you got the basic idea of what you should pay attention to when considering which SCM software to develop for your company.
Read Also How Custom Software Help Building the Supply Chain with No Weak Links
Top 5 Popular Types of Software for Supply Chain Management
Now, let's look at some of the types of SCM software that you can build in order to enhance your business processes.
1. Warehouse Management Software
This is a perfect solution when you want to have full control over the daily functions of your warehouse. It is a lot easier to receive orders, track products, and monitor multiple locations within a warehouse when you have such logistics software. You don't need to add information manually about the stock storage or use Excel spreadsheets, everything is automated, and you can see all the needed details, including order information, location routes, etc., right away.
Warehouse management software (WMS) is also a good addition to your current ERP system. The software development experts that provide integration services can help you to easily implement it into your company's system or offer application modernization services.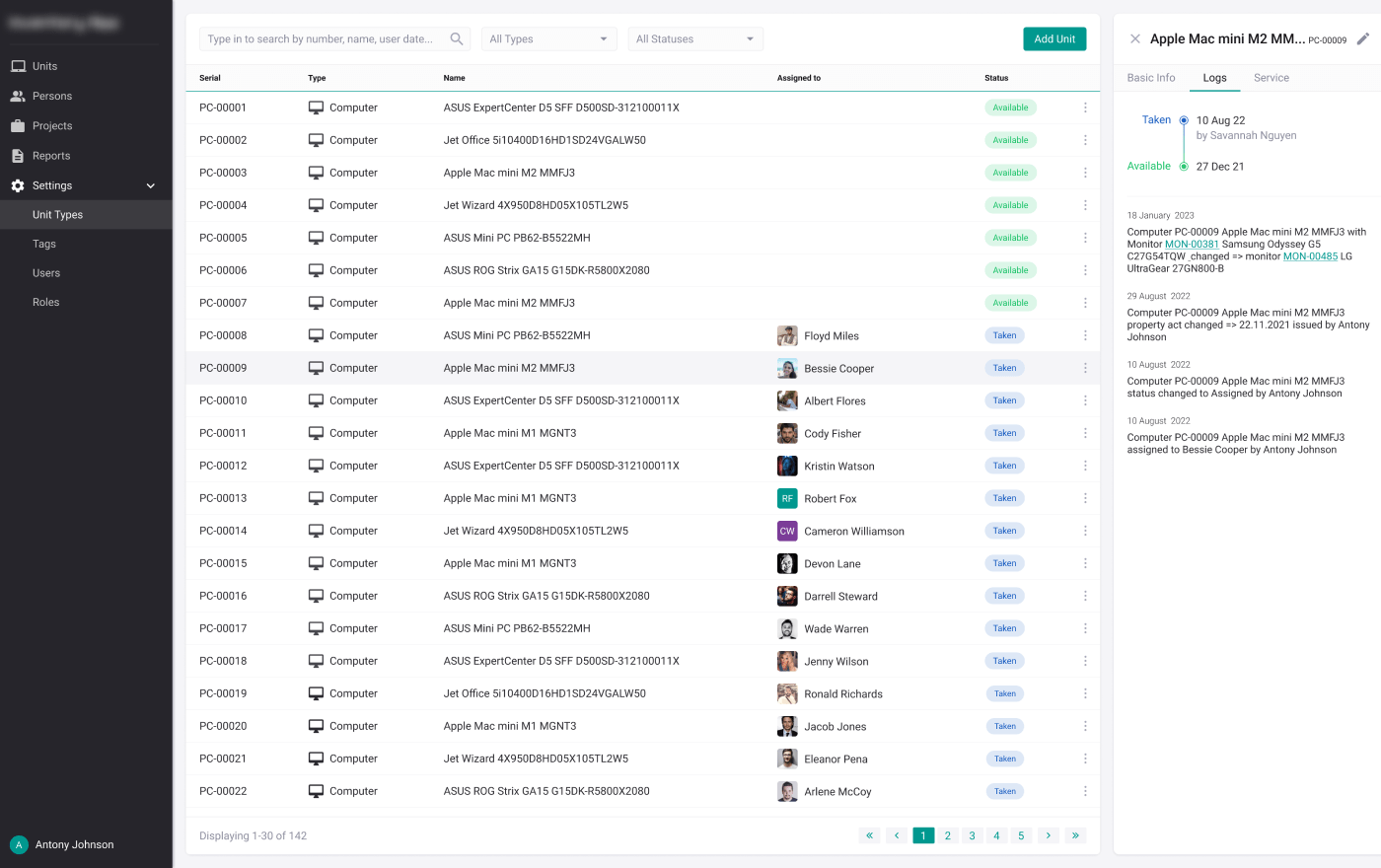 Source: Warehouse and Inventory Management System
2. Inventory Management Software
Most of the organizations tend to include inventory management tools along with the warehouse management ones into their systems in order to have a full picture of their supply chain processes. While WMS covers picking and packing activities in a warehouse, inventory management software looks more at forecasting, optimization of the use of warehouse space, and streamlining the production planning stage.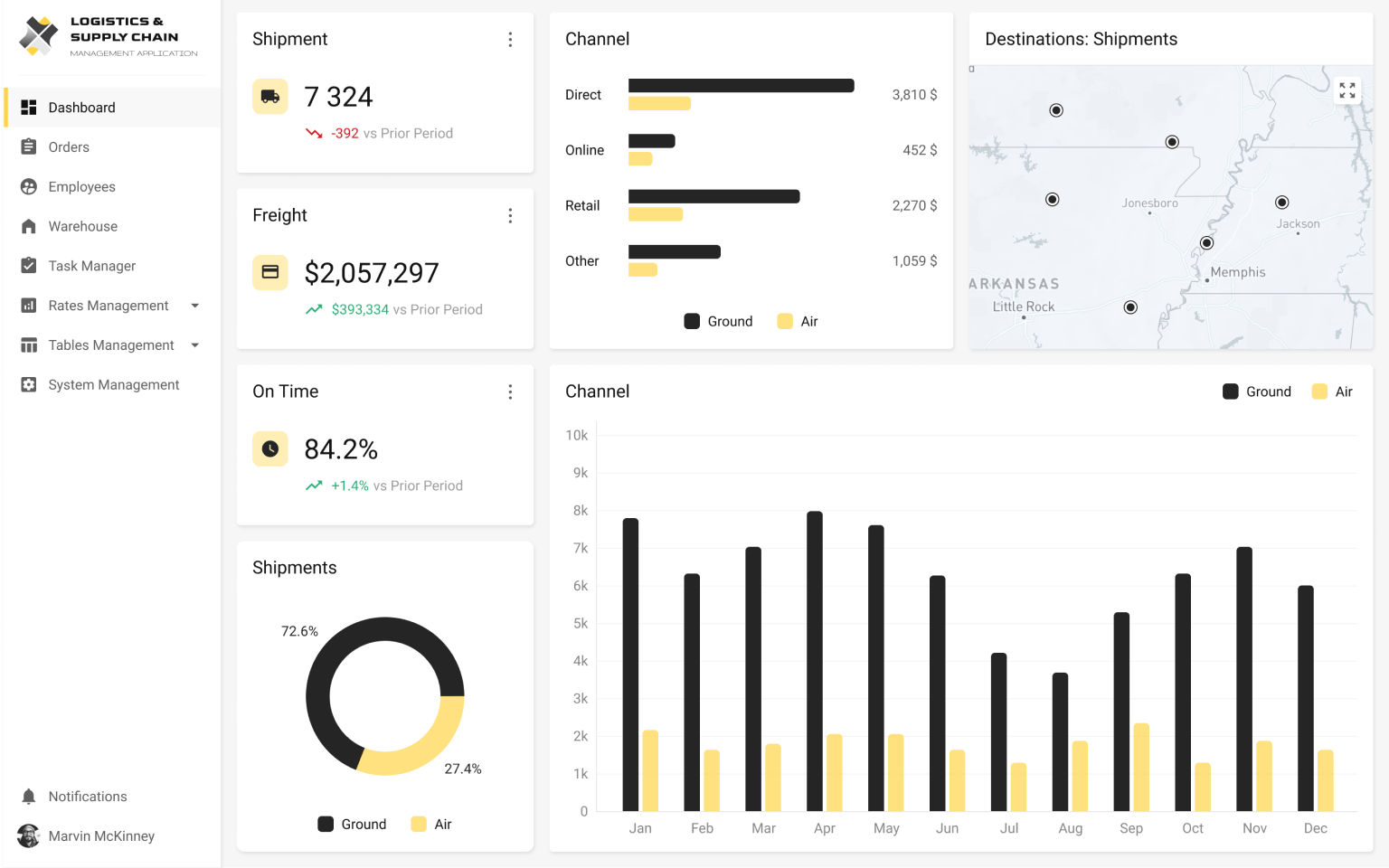 Source: Logistics and Supply Chain Management Application
3. Order Processing Software
If you don't need additional components and functions, and just want to pay attention to the order management, order processing software is a perfect choice. It is vital to understand that the order processing can affect both the company's reputation and customer satisfaction if it's done slowly and inefficiently. And, using software that is capable of automating operations and reducing time needed for creating and sending invoices or processing purchase orders helps dealing with the issues.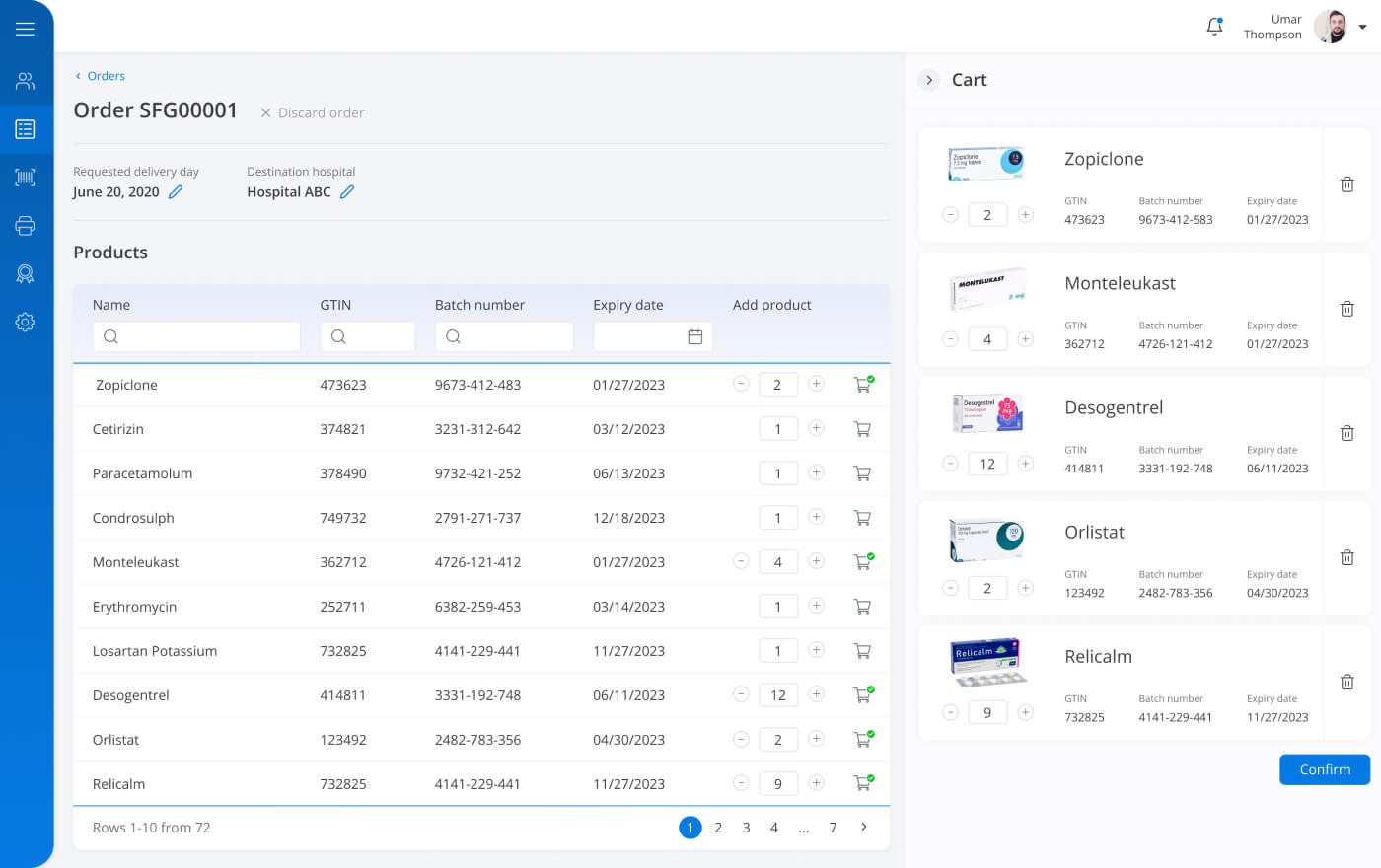 Source: Pharmacy Order Management System
4. Supplier and Customer Management Software
This is another popular option that companies choose to integrate, because it shows a clearer picture of who your suppliers are. With the help of this software, you are able to get the supplier or customer information, track and measure performance, and mitigate possible risks. Collaboration and negotiations become easier, faster, and less problematic with this type of CRM solution. As a result, your organization knows how to act further and improve other business processes.
Read Also What's the Internet of Behavior and How It Can Help to Keep Your Customers Happy
5. Truck Dispatching Software
To avoid routing and dispatching difficulties, businesses use truck dispatching software. It monitors shipping orders, automates truck routing, checks the condition of packages and vehicles, and scans truck inventory capacity. Thus, it is possible to greatly simplify the overall supply chain process and ensure better scheduling. Such software usually includes GPS vehicle tracking solutions to manage the fleet without issues and improve transportation management.
Read Also Top Features to Look for in Trucking Dispatch Software
Conclusions
All in all, supply chain management solutions that a company can implement may intertwine with each other or have individual approaches. It all depends on each particular case and the goals of your business. The key task is to evaluate your business strategy, define goals of all stakeholders, and determine the resources you have. Thus, it will be easier to choose which type of software will be the best in your situation.
If you have doubts of whether you have the right choice or not, you can contact us to get a consultation and expert vision on today's technology trends and development aspects. We can offer the best solution that will be integrated fast and will bring your company the needed attention.