Normally real estate – is not the thing we purchase or rent on the regular basis. Maybe that is the reason why until recently this domain has been considered to be pretty conservative, with a plethora of bureaucratic procedures and nuances. Why has everything changed? The main reason is the development of the emerging technologies which made a great impact on almost all existing spheres including real estate and made the processes flowing within the area more transparent, flexible and easy. In this article we will speak about mobile apps, why they are widely used in the real estate area, what impact they make and how they transform the way we sell, purchase and rent properties.
Why Develop a Mobile App for Real Estate Business
Nowadays almost everyone has his or her smartphone at hand. Therefore due to this fact, mobile applications have gained broad popularity. And indeed, more and more people prefer to use a smartphone over a laptop for a variety of actions, starting from ordering a cab and finishing with making big purchases. But in most cases, it is being done not via a mobile browser, but via a mobile app. Let's check the statistics which covers US below: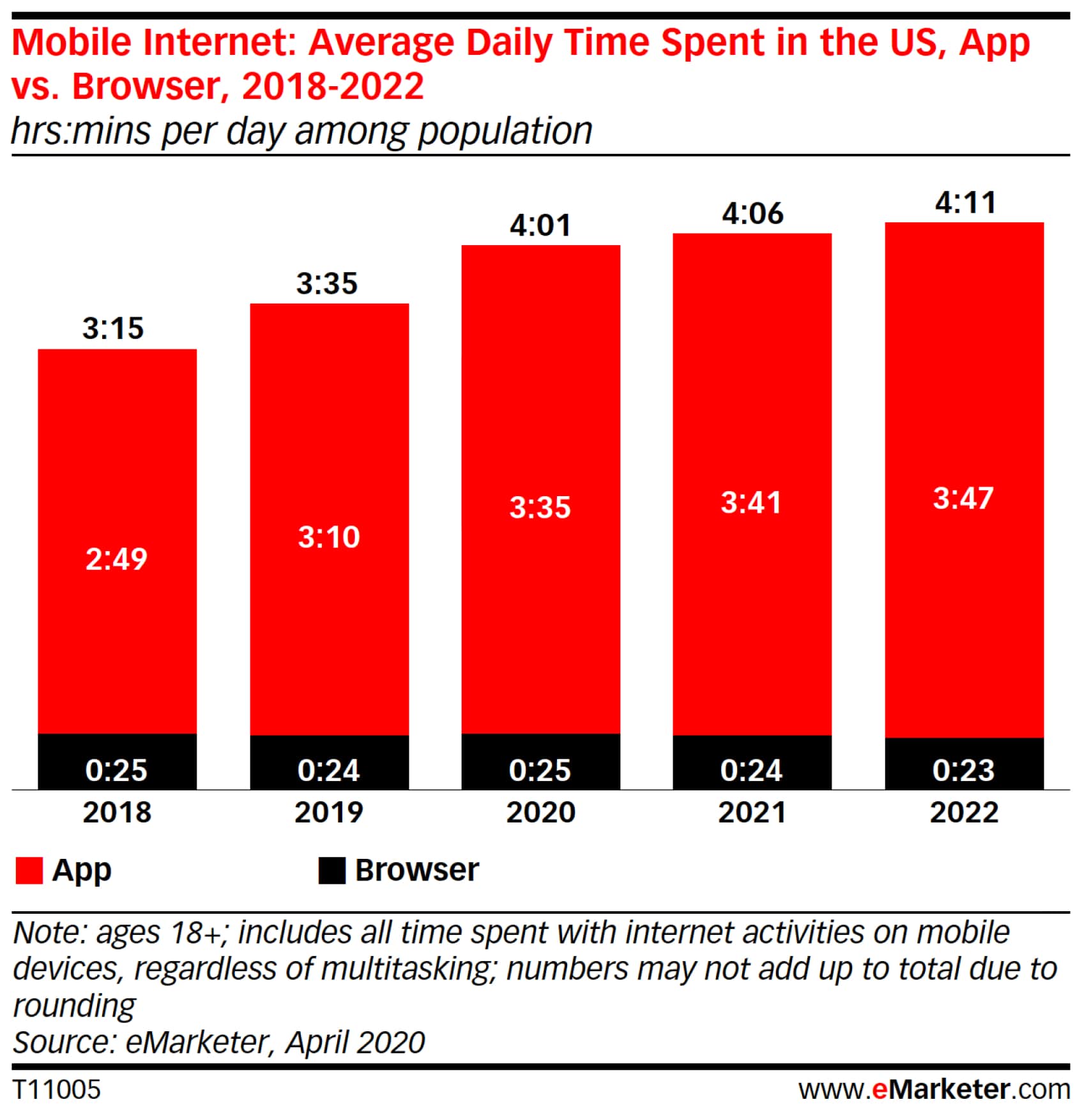 Image Source: eMarketer
According to the provided statistics, average daily time spent in mobile apps exceeds time spent in mobile browsers exponentially, and it's a good food for thought for those business owners who are thinking over investing in mobile app development.
Well, it's all clear with general statistics. But let's stick to real estate mobile apps and discuss the points how they can help business:
Enhanced Communication with Customers
Establishment of good communication with a customer is essential for any business, that is why this point is number one in the list. A real estate mobile app facilitates better interaction between an agent and a potential customer, which strengthens the possibility of deal closure and leads to the increase of your brand's value.
This becomes possible due to the augmented chat options, which allows customers to communicate with agents through different channels. For example, you may choose an option to send a message to an agent directly to his/her mailbox without the necessity to leave the application. Or alternatively it's possible to communicate in real-life mode via the messenger, which is considered to be a more efficient tool to maintain the communication. In this way, potential customers may choose a preferable communication channel, and the possibility to select significantly increases customer retention.
Advanced Targeting
An application gathers the information considering the user's preferences, and shows the search results on their basis. Preferable location or residential area, price range, number of rooms and other factors are addressed, which significantly increases the chance that a user would find the property meeting his/her requirements.
Maximizing Market Reach
We all have different preferences. Some of us in most cases use a laptop, some tablets and mobile devices. That is why if you intend to cover the maximally broad audience, it's necessary to take cognizance of this fact. Therefore investments in real estate mobile app development will help you to increase the market reach and "become closer" to your potential customers.
Property Sales Increase
As it was already pointed out above, good interaction with potential customers is a very powerful instrument. Since a mobile application provides various chat options, opportunity to have a 3D tour around the property, easy possibility to set an appointment with an agent – all these aspects lead to customer retention, and therefore company's revenue increase.
Handling Loads of Paperwork
Plethora of papers and important documents is the enormous headache of all real estate agents. The possibility to download the necessary documentation in the application allows real estate agents not to care about its storage and quick access.
Must-have Features Real Estate Mobile App
A real estate company may gain an extensive range of benefits in case of adopting a mobile application. Here are some key features that a real estate app should possess to bring use to business:
3D Tours around Properties
Nowadays time is a great value, and nobody wants to waste it for activities that would not lead to the result. Owing to 3D tours, customers have a possibility to evaluate the property and gain a first impression without physical presence, and only then set up an appointment with the real estate agent. This approach saves time to customers, since they may carry out the first inspection of the property in frames of the online tour and not proceed further if there is something odding with expectations. As for real estate agents, they have an opportunity to arrange appointments only with "hot" customers, which significantly saves their time.
Read Also  PropTech: How Technologies Have Changed the Real Estate Domain
Appointment Plannings
Making appointments via a real estate application is another significant advantage for both parties, in view of the fact that there is a possibility to set up a visit to the property in several clicks. A customer chooses a property and preferable appointment time, and sends a request to a real estate agent that is available according to the list. When an agent accepts the request, it means that he/she is available to show a property on a required time, so no additional actions needed from the customer after that, except for showing up at the appointment of course.
Push-notifications
Push-notifications is another effective tool for customer retention. If an application possesses this function, a user doesn't need to waste time scrolling down trying to find a property which he/she liked when visited an app last time. Instead of that, the user may select properties he/she prefers to gain notifications of. Therefore a potential customer will have a possibility to gain the information about the price change, property status updates, and other information considering the shortlisted property.
QR Codes
Users can scan QR codes via an application and gain the full and up-to-date information considering the property within seconds.
Conclusions
Such a tool as a mobile application should not be underestimated, especially nowadays, when almost each of us uses a smartphone. The list of advantages a real estate app can bring to a company is pretty extensive, but it's important that potential customers will also benefit from it.
If you are currently looking for a company that offers real estate software solutions, please contact us, our team will be glad to help.