With the changes our world is undergoing and technologies appearing and improving every day, the real estate industry is among the spheres that are under influence of innovations. Such features as virtual reality (VR), digital transactions, artificial intelligence (AI), CRM, and augmented reality (AR) are being implemented to bring clients better service and experience than ever. Customers are changing as well, and it is important to be able to adjust to this metamorphosis and follow up their needs and requirements to perfectly enter the niche.
Everything becomes mobile, faster, and easy-to-approach, which is why almost every business has a website and an application nowadays. There is even a chance that real estate apps may fully replace brokers and agents in the future by giving clients all the needed services in the palm of their hand. According to Statista, more and more users download various applications from the Google and App Stores, which means that the mobility of using various services is relevant. Therefore, you need to consider having a mobile application if you want your startup to skyrocket and come into the spotlight of the sector.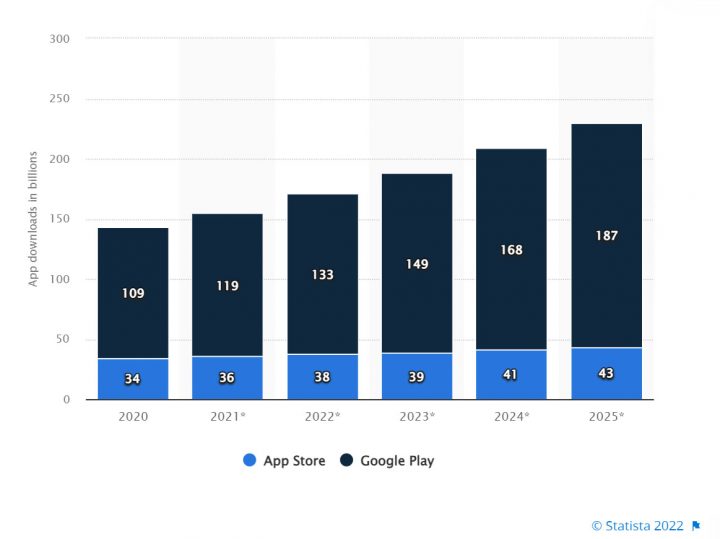 Real estate apps improve customer experience, and it becomes a lot easier for the clients to rent a house or buy one. However, real estate software development can be difficult, especially for a company that is only starting. That is why your business should be ready for any difficulties and challenges that may occur during the path of growing. In this article, we will shed a light on the development process and help you to understand where to start and which details to focus on.
Challenges You May Come Across and Type of App You Can Lean Toward
Just like in any other industry, a business can face hurdles in the real estate sector, and you need to know about them to prevent failure. Thus, your first step should be the planning of your target audience. Reaching your target audience can be a difficult task, but it is surely beneficial for the growth of your business and better reach of the mobile application. You need to make sure that your real estate app is infused with the feature-rich technologies, like Internet of Things (IoT), AI, and so on. The implementation of these technologies affects the cost and consumes your time, which can be challenging.
Besides the application of the technologies that can improve user experience, you need to understand that the whole development process can cause budget-related issues. Your project manager has to focus on all the factors that can influence the process. It includes the platform specifications, budget constraints, etc. To make your task easier, you can find an outsource software development company that offers custom real estate software development services. In this case, the real estate app development can turn into a less costly solution than you expected.
As many customers, industries, realtors, and vendors will be investing in your real estate application, you need to think about the possible security-related concerns. You need to be sure that all the data is secured, there are no loopholes, and users don't have any doubts of utilizing your software and sharing their personal details.
Read Also No Longer Conservative or How Mobile Apps Transform the Real Estate Domain
If talking about the development of a custom real estate app, which is your next step, you need to know which features to add. And, before that, you need to identify the purpose of your software. As an example, you can opt for the following types when developing one:
App for realtors
Such a solution is created for covering all basic features that simplify the process of communication with customers. Thus, the functionalities you apply have to give access to the required real estate documents and reduce paperwork.
Property listing app
This type of real estate application provides customers with the lists of houses that are available on the market. It should contain the basic information about each real estate item you offer.
Smart home access app
If you want to provide your clients with houses or apartments with smart home features, you will need this type of app.
Home valuation app
With this solution, real estate agents and investors are able to use private and public data on housing trends and past sales to know the true market value of a particular lot. It also can help in forecasting future home values or even determine factors driving those predictions.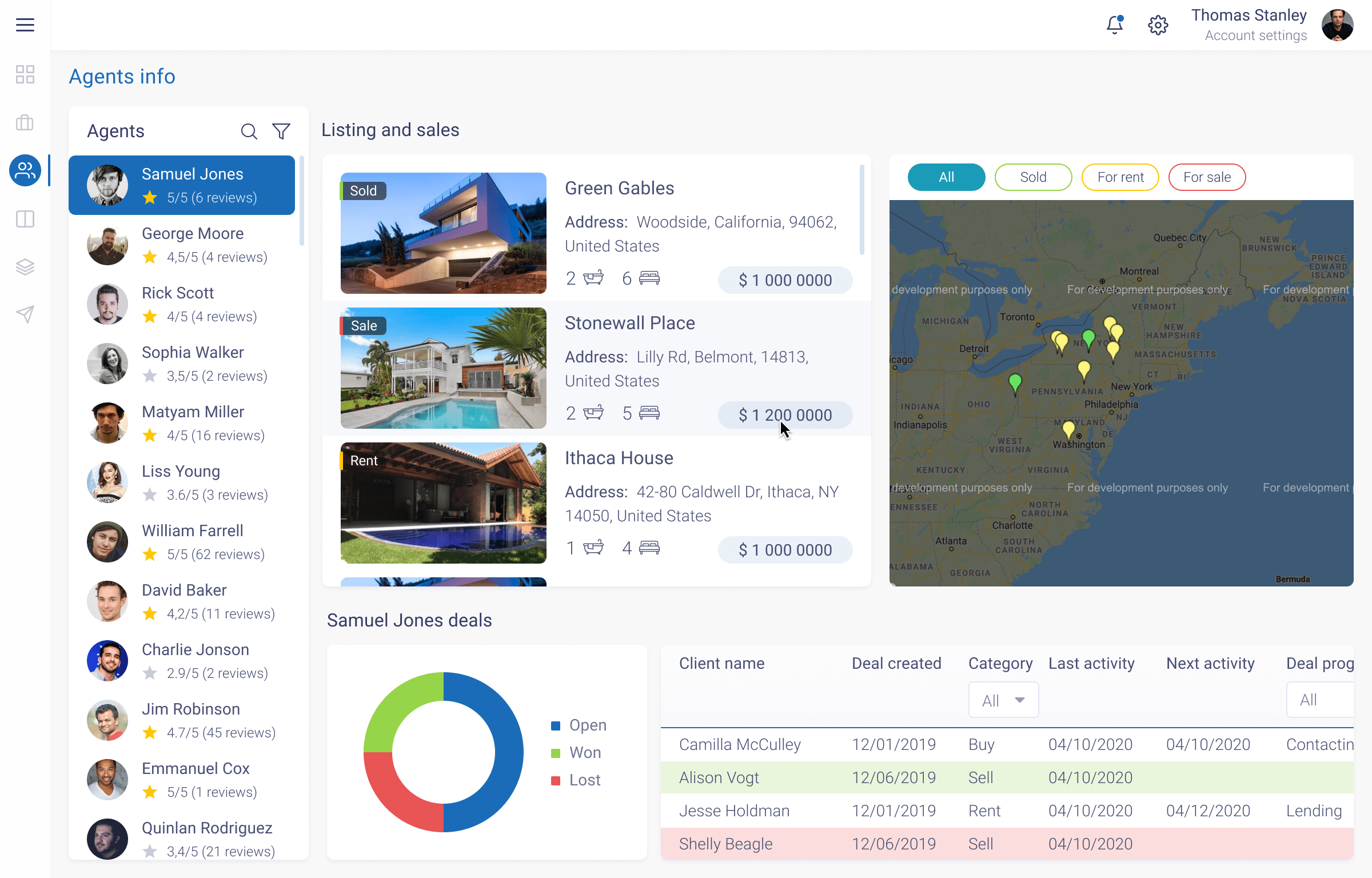 Property management app
If your goal is to provide property managers with details about their properties at any time, you can go for this option. They can use your software to see when rent is due, analyze advanced statistics of their business, and check maintenance requests.
App with virtual tours
This option can be chosen if you want your sellers and agents to be provided with 3D tours to let them view properties online.
App for real estate agents
It is used for managing documents, simplifying the listing process, communicating with clients, and so on to reduce an agent's workload and make their job easier.
Read Also PropTech: How Technologies Have Changed the Real Estate Domain
Must-Have Features to Include in Your Real Estate App
Nowadays, technology goes far beyond the abilities it had before, which is why there is a wide range of functions that you can use in your real estate app. To be sure that your app will be released successfully and will get positive feedback, you need to think about implementing the following:
Property Cost and Mortgage Calculators
Having different calculators helps greatly in receiving automatic estimations and making the process easier. The app should contain the details about the costs and mortgages, which means that users need to see the information about taxes, down payments, insurance, and monthly payments.
Street View and Navigation
It will be useful to include a map with an in-depth comprehension of the area that helps clients to choose the option they want. With a Google Maps API, it is possible to explore the neighborhood without traveling there.
Virtual Tours
Implementing 3D virtual tours ensures more attractive listings for buyers. They will be able to preview the detailed layout and evaluate if an apartment or house fits their requirements and needs. A cold description often fails to achieve this task.
Augmented Reality (AR)
This is another feature that you can implement to provide your users, both buyers and sellers, with a better visual presentation of a lot. It gives them an opportunity to play with colors, furniture, and interior design right on their mobile device.
Advanced Search Functionality and Favorite Listings
It is vital to add a variety of details into the search function and let a user save a list of properties that they may want to use later. The search function should include the information of price range, lot size, property type, crime rates, listing type, location, year of construction, square footage, and so on. It is even better to add categories and filters for better UX. If a client will be able to create favorite listings of the options they found, it will help agents to see the interests of their clients and suggest similar lots.
Calendar
With a calendar, users are able to schedule appointments and see available dates for booking. It is really useful both for buyers and agents.
Real-Time Messages
If a buyer can instantly communicate with an agent or agency, it increases customer satisfaction. Implementing the function to send files and other attachments as well as adding voice and video calls creates more communication options between the users of your app.
Administrative Panel
To make usability for landlords, property managers, and agents even better, it is recommended to add an administrative panel. It shows tenants' rental history and credit reports from rental applicants, helps to submit listings or remove them, and gives the users an opportunity to monitor the revenue stream.
Of course, your choice of which feature to implement depends on the type of software you are going to develop, because it is not always necessary to add all functions at once. That is why your choice should be based on many factors.
Conclusions
The key goal of developing a real estate application is to increase the engagement and user experience. It means that the features you implement should deliver convenience, security, and quality support. Custom software development for real estate industry is not an easy process, but it can have the outcome you need if your actions are consistent and preplanned.
If you want to develop a real estate app or be consulted by the experts, contact us, and we will help you in implementing the technologies you have in mind.