Automated processes in any industry lead to faster and more effective work, which is why it is a shame not to use software and applications that can help you to improve various operations. It is especially relevant for those businesses that have entered the manufacturing industry. Many procedures need to function together coherently so that you will be able to grow your business and let it flourish.
To be able to ensure success and efficiency with the myriad of processes at play, wise business owners and managers need to know which features the solutions they wish for should have and which functions they must include. It may be difficult because of the variety of choices, but you need to keep in mind that the implementation of the manufacturing software is about the automation and simplification of tasks. However, these are not the only approaches that you need to follow, which is why let's look at what you need to pay attention to when you decide to go for the manufacturing software and are searching for the type that will fit your business.
What to Consider When Choosing Suitable Manufacturing Software
First of all, it is important to understand that some types of manufacturing software offer similar functionalities, and you won't need to use all of them. Also, you need to define advantages and disadvantages of implementing one into your own business strategy.
Thus, if talking about the benefits that software for manufacturing companies can bring, it is essential to consider the following:
Increased productivity and efficiency
Any tasks, including inventory management, quality control, production planning, and others, can be improved with the right solutions. Depending on the functionalities, you can get effectiveness and smoothness in operations as quick as a wink. You can easily track all supply chain activities from their very start to finish. It also helps you to identify processes that need to be corrected to ensure maximum efficiency without slowing down the productivity.
More safety for data storage
Relying on paper records is the past because of many reasons. It is not convenient, the data can be easily lost in the process, and it is not really safe as well. Relying on hard disks is also not very optimistic as it may seem, because they cannot guarantee full data security. Cloud-based solutions, on the other hand, cover all these troubles and may be your life-saver. You can provide access for specific documents and data to certain users only, and it is possible to manage the data from any device you use to have control over the processes when it is required. Moreover, you can give access not only to your employees but to other companies as well to improve the collaboration between you both.
Read Also The Sky's the Limit. The benefit of Adopting Cloud Technology for Manufacturers
Improved product quality
The more the manufacturing software system that you use is customized to your needs, the more control you have to ensure the best quality of your product. With most of the operations being automated, you can pay attention to the processes you need and identify all occurring issues a lot faster. The manufacturing software provides you with accurate data, which also positively influences your decision-making and hence the product quality. As a result, it boosts customer satisfaction, profits, and sales.
Reduced manufacturing costs
The usage of custom manufacturing software minimizes payroll expenses because of the increased worker productivity without overtime. With its help, the precision of the procedures increases, while rework or scrap are reduced enabling better control over financial resources and avoiding their draining.
When looking at the possible drawbacks, you should be ready for the following:
Unseen costs
In spite of the reduced manufacturing costs, there is always a possibility that you may face the incidental expenses. In theory, this is the drawback that you may run into when implementing any technology into your working processes. In actual practice, it happens when you implement the one that doesn't suit your business strategy and goals or doesn't know how to manage it. Therefore, it is important to choose the manufacturing software that will help your company and won't do worse.
Limited originality
Automated processes can sometimes limit creativity required for your product, but this disadvantage can easily be dealt with by developing custom manufacturing software. Thus, you will be able to adapt the features you want to the processes you need. For example, you can leave the management of day-to-day business operations to an ERP system, while your team will brainstorm the ideas they have in mind.
Read Also Five Common Challenges For Manufacturing Industry and How Software Helps to Overcome Them
Types of Manufacturing Software to Consider
The activities of a manufacturing company are wide-ranging, which is why it may be difficult to pinpoint only one system that will be able to cover all the needs. Let's look at some of the common and interesting types that you can find. Depending on the aspects of the operation, the following types can be derived:
ERP Manufacturing Software
Enterprise resource planning software is the most popular choice among manufacturing companies. Whether you choose developing manufacturing software on your own or you are looking for a company that offers software development services for manufacturing businesses, you can opt for this type of tool. Any custom manufacturing ERP software can reduce costs and increase organizational efficiencies, because it simply optimizes the use of company resources.
Read Also Strengthening Your Manufacturing Business With a Custom ERP Software
Project management, accounting, inventory management, production, supply chain operations, compliance – all your day-to-day business operations can be managed by such a solution. It is rather a complex tool, which may require a team of seasoned developers, but it greatly improves overall operational efficiency.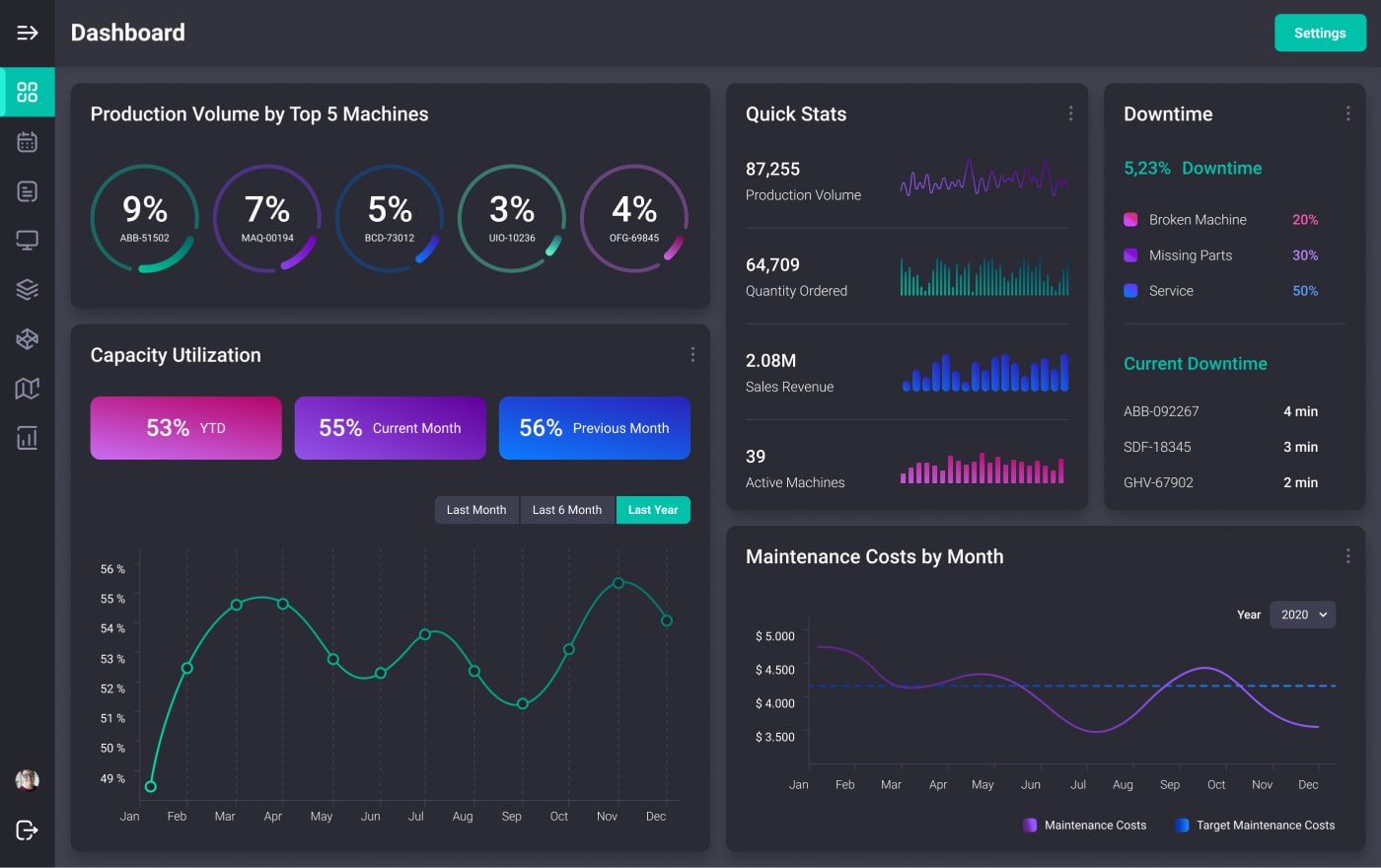 Source: Advanced ERP Software for Manufacturing Company
Inventory Management Solution
This is a more narrowly focused tool that helps specifically with the management of your inventory. With the help of such monitoring software, you can tremendously optimize efficiency of your business, because it manages all the real-time inventory data, captures relevant information, and automates product reordering, warehouse management, and inventory tracking. It can even help you in improving strategic planning, decision-making, and forecasting.
Supply Chain Planning Tool
If you need more than an inventory management software, you can think of using the supply chain planning solution. With supply chain planning software, it is possible to monitor the whole path of your product from shipping to delivery to a customer. You can easily optimize planning schedules and the entire process in general, because it can forecast demand in order and supply and grants you end-to-end visibility.
Computer-Aided Manufacturing (CAM) Software
The union of computer-controlled machinery and software development can create the perfect tandem for today's tech world. To make this idea real, you are required to have software that will tell a machine what to do exactly and, of course, the machinery that can understand the tasks given to it and is capable of creating the needed product using raw material. This tool is useful in case you want to manufacture goods directly from a design without manually setting up and operating machinery.
Remote Assistant Solution
Any technology and machinery can sometimes show abnormal behavior or errors during the working process, and you may need certain specialists to be nearby at any time if something happens. However, it is not always possible for specialists to be onsite, and virtual presence of a specialist is the solution that you will need in this case. The remote presence can be delivered via various devices and features, including AR glasses, head-mounted wearable computers, video streaming, voice control, and more.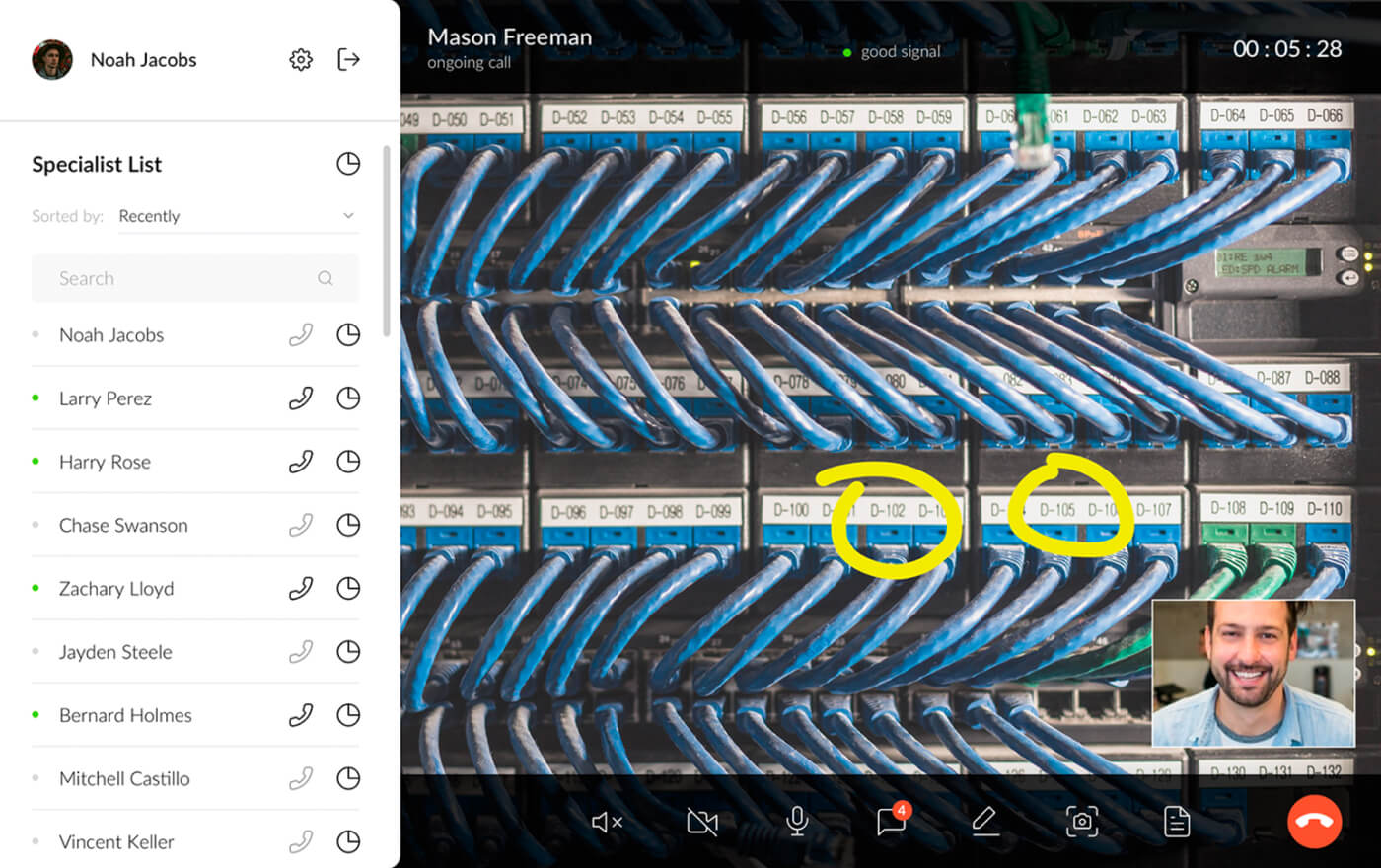 Source: Remote Presence Solution
Product Lifecycle Management (PLM) Software
If you need to get a holistic view of product development, this type of manufacturing software is what will fit your company. The tool gives you an opportunity to effectively manage the data of the product throughout its lifecycle to ensure that your goods are always of the highest quality. All information related to the manufacturing documents, item parts, initial product requirements, and so on is gathered in a centralized hub. It means that you will be able to manage a product from start to finish, including the development, design, launch, and marketing stages.
Conclusions
Success and efficiency is what every business desires, especially when your company needs to deal with many manufacturing operations. You need to keep an eye on many processes, and manufacturing software can give you the needed help and sweeten the pill.
If you want not to be lost in a variety of choices when considering which type of solution to go for, pinpoint the key goals of your company and scale pros and cons that each option you set sights on can give you. Also, decide what is better for you: to develop an application by yourself or give this task to a software development company. If you understand that this may be troublesome for you, our experts can help you and find a solution. So, if you have any questions or want to hire a dedicated team of developers, contact us, and our specialists will offer you the best option.