Disregarding the number of commercials, or off-the-shelf software available on the market, many businesses opt for bespoke software development. Why?
Imagine you have purchased a ready-to-use product and, full of expectations that it will improve your business processes, dive into it. Sometime later, it turns out that the product or its components don't work as expected, and you have to develop auxiliary systems or use additional software to compensate for the constraints of the primary business software. Moreover, you find out that the features highlighted as the software benefits can be a benefit to the "millions" but make no valuable addition in your case.
When the company management doesn't see how the selected application and its alternatives can cover the current business needs and foster future business growth, they turn their eyes in the direction of bespoke software solutions.
What Is Bespoke Software?
Definition of bespoke software as compared to off-the-shelf solutions:
Off-the-shelf software is a mass-market product created to reach a wide audience. Bespoke software is a tailor-made product for businesses that are unique and work in a very niche market.
In other words, the off-the-shelf application is created for the millions of users with different demands in the attempt to cover all these demands in one solution. Bespoke or custom application starts with your unique business process and is designed specifically to your business needs. Bespoke solutions are often created when there are no alternatives on the market to drive your business forward.
Examples of Bespoke Solutions That We Develop
We have created several efficient enterprise software solutions for the clients in USA, Canada, UK, and other countries. It is mainly bespoke business software which incorporates different modules for workflow automation, content management, online shopping and payment processing, customer relationship management, enterprise resource planning, BI, project management, employees collaboration, human resource management, manufacturing, reporting, etc. Each developed solution is tailored to the client's specific requirements.
One of our best examples of developed bespoke software in the UK is a workflow application solution for business: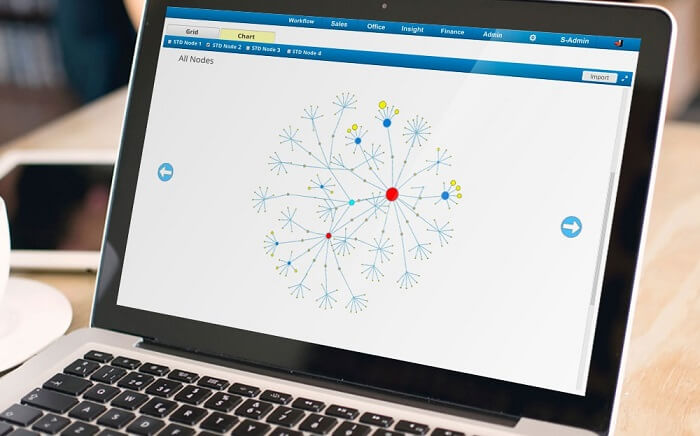 Thanks to the in-house developed JavaScript library Webix that was used in the app, our bespoke software developers built a secure cross-platform solution that works flawlessly on desktop and mobile devices. Even though the app was designed primarily to manage manufacturing and sales, it has eventually grown to the app that can fit practically all business areas.
Besides Webix, we work with other innovative technologies which allowed us to develop a fleet management solution that became one of the most wide-spread GPS tracking systems in Canada.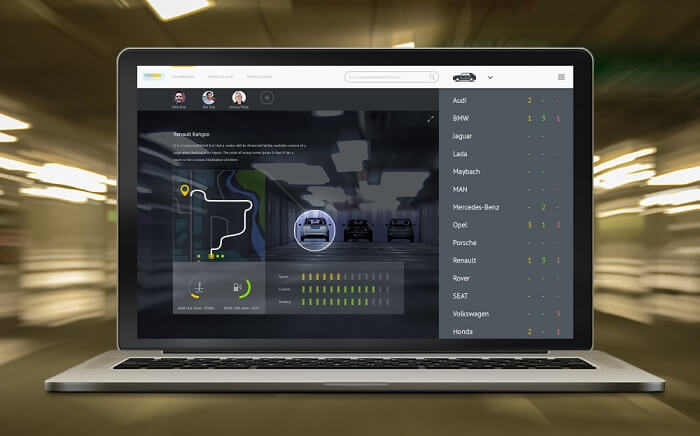 Bespoke Software Advantages
You own your product.
When you order bespoke software the full copyright it transferred to you together with the source code. Just make sure to include this item into the contract.
You can change it whenever you need it.
When you own your software, and it is well-designed you can easily adapt it to any changes to keep up with your business dynamics.
It is solely you who decides what changes come first, what new features should be added. You are not restricted to the features that the off-the-shelf product developers consider to be important.
You can select the development environment.
When you develop your software, you pay attention to the technologies, frameworks, and the future of your product.
You should select the technical environment that will make it easy for you to maintain and support your software and minimize all possible vulnerabilities. Due to the wide-spread of open-source 3rd party components, the latter can be a problem nowadays. The recent analysis of 25,000 enterprise apps shows that 6.8 percent of the components ( that is 1 out of 16) have security defects. So, you have to be careful while selecting a components' supplier for your future software. Our expertise in technologies we use guarantees the security of all bespoke software that we develop.
You save time and money on integration.
First of all, it will take less time for software integration and its optimization for your business processes. Your employees would learn how to use new bespoke application software faster. Why?
The software is cut specifically for your company and provides the functionality stipulated by your business needs. Thus, your employees won't have to waste time on excess menu options, screens, or features. All necessary functionality is right at hand, and there's a need to use different separate solutions.
Secondly, you don't have to pay annual fees for the use of software or its upgrades — no more fees for the extension of your app scalability or the exponential growth of users.
Of course, it's not as simple as that, and the product development from scratch means other costs, which you will find below.
You select the bespoke software development company you like.
The number of companies that develop bespoke software prevails over those who sell off-the-shelf mass-market solutions. Thus, you can select whichever you please. Just make sure it is a reputable company with relevant experience and expertise.
Another benefit is that you can discuss your future bespoke software solution with the software development company in detail. At XB Software, we help our clients identify the problems they are facing and come up with a solution that would meet their specific needs. After the analysis is done, we provide our clients with a rough estimate of the cost. When confirmed by the client, we work over a full specification and calculate the final cost.
If bespoke software is so good, why not all businesses select it?
Higher initial costs and time for implementation
Notwithstanding the obvious advantages of bespoke software, not all companies can afford to invest in development. Creation of great custom software implies putting lots of efforts on from the very first moment of working over the app. You have to spend time to define your vision and requirements for the future product clearly. You have to manage the project and answer questions, review interim deliverables, and collaborate with the software development company closely during all phases of product development.
Depending on the size and complexity of the bespoke software, it can take months and years to elaborate it.
Extra costs
In case of any software updates, you have to pay extra money to the development company that made this software for you.
Suitable alternatives
Another reason why bespoke software is not chosen is that for some business areas, it makes no sense to invest in a solution that has ready alternatives – off-the-shelf, or commercial software on the market. Besides, many off-the-shelf solutions, though sophisticated, can be quite flexible and customizable to cover your needs.
Off-the-shelf Software Customization
Sometimes the off-the-shelf solution fits you 80% but you need to customize the rest 20% to your requirements. A customized solution takes the best of both options: it is fast to setup than fully bespoke software and more fits to your needs than a fully commercial product. Customized software can potentially provide major business and commercial benefits and gain significant competitive advantage.
At XB Software we can both write bespoke solutions and customize your existing products to work better. We also consult our clients to help them choose the right off-the-shelf software. In case of customization, our expertise enables us to adapt and integrate the necessary components.
Conclusion
Before you make your choice, you have to research each option in terms of getting maximum results for your business. If you decide on a bespoke software solution, select a bespoke software developer who is capable of delivering exclusive solutions and works to the Best Practice Standards. The developer's specialization in your area would be a plus. Keep in mind that the creation of such software from scratch may cost more than a ready-to-use commercial product. If you are inclined to use off-the-shelf software, make sure it will work out for you in the long term and fits well into your business processes.
What you'd choose: bespoke or off-the-shelf software, or its customization? Share your opinion and experience.